Travel Tips for family friendly Amalfi Coast holidays
If you're travelling with a family to the Amalfi Coast there are many different resorts that you might be considering. Capri, Positano, Ravello, and Amalfi itself are beautiful places to visit. However, they're better suited to couples and solo travellers rather than to families.
You need to find a base that is child-friendly while also still being accessible. Well, enough to explore the stunning local area with those of all ages. With all things considered, Sorrento is the ideal solution.
A fantastic family Location
Sorrento is the best place to stay on the Amalfi Coast for families thanks to its fantastic location. It is within easy reach of the region's popular attractions and its many family-friendly amenities.
There is plenty to see and do in Sorrento for old and young alike. This makes it this the ideal destination if you're holidaying not only with the kids but with the grandparents too.
Unlike many other local towns, Sorrento is on mostly level terrain. This means it is without the seemingly endless steps that prove to be so daunting in places like Positano. This is true for parents with prams and buggies, not to mention for older people with mobility issues.
A large section of the town centre is for pedestrians only. It's a traffic-free, safe place to wander, explore, and relax. Enjoy a coffee and a shop in the main piazza before meandering down to the kid-friendly beach to pass the afternoon. 
Things to do with kids on the Amalfi Coast
When it comes to family friendly holidays, the Amalfi Coast boasts plenty of wonderful attractions. These appeal to holidaymakers of all ages, and Sorrento is within a stone's throw of them all.
The children are sure to be just as fascinated as the adults by the historical site of Ercolano, which can easily be reached by train. Boat trips along the glorious coastline are just as fun for the little ones as for the grown ups.
Don't forget, expert guided Pompeii tours are just a stone's throw away too for kids with an interest in volcanoes.
Sorrento even has its own sandy beach where youngsters can splash in the sea and build sandcastles to their hearts' content. All this before taking a ride on the town's mini train.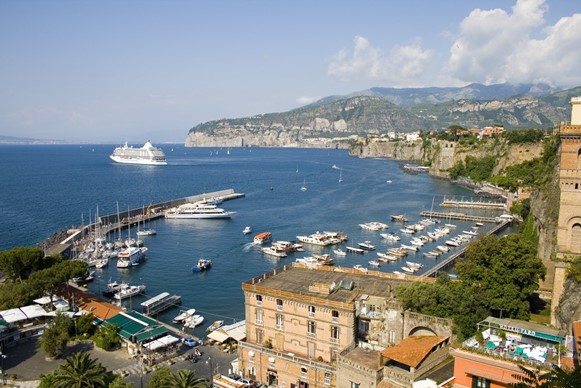 Family-friendly authentic Italian cuisine
Amalfi Coast family holidays wouldn't be complete without sampling the delicious local cuisine. Sorrento gives travellers ample opportunity to dine out.
There are plenty of family-friendly restaurants where children receive the warmest welcome and can choose from authentic versions of their favourites from back home. These include Spaghetti and Pizza which originates in the Compania region.
Of course there'll will be plenty of treats for the adults, such as Gnocchi alla Sorrentina, fresh seafood and local home made Limoncello which is world famous and like nothing you've ever tasted anywhere else. 
 Grandparents and toddlers alike will revel in the taste of homemade gelato in an array of mouth-watering flavours.
Accommodation for family holidays on the Amalfi Coast
When it comes to family-friendly accommodation, again, Sorrento ticks all the boxes. There are dozens of hotels here offering child-friendly facilities, including large family rooms, buffet-style meals for picky eaters, swimming pools, and even kids' clubs to keep the little ones entertained.
For families needing a little more space to spread out and chill, there are plenty of apartments and villas to choose from in Sorrento too.
Of course, older holidaymakers will find pleasure here too. You'll find many of the accommodation options available offer all the essentials to keep grownups happy too, including bars, evening entertainment, and even spa facilities.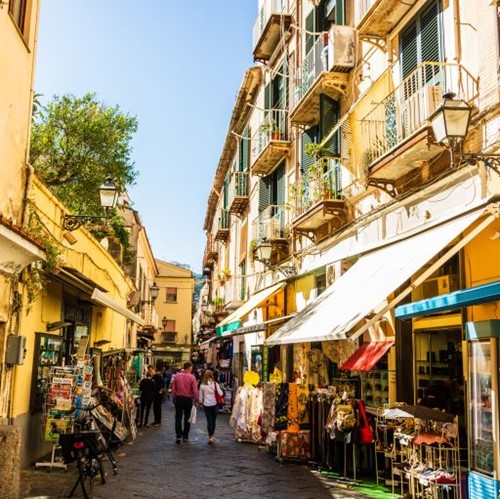 One thing to look out for wherever you stay on the Amalfi Coast is the stair situation to reach your hotel. The charm of cliff style towns can be a logistical downfall with luggage and prams. Sorrento offers more stair-friendly options, with ample excursions available to all the neighbouring villages and 'grotte' (caves) such as Capri, Positano, Maori and Amalfi itself. So you'll get the best of both worlds.
With all of this in mind, it's clear that Sorrento is the perfect location for sun and fun-filled Amalfi Coast family holidays.
If you are travelling with a family to the Amalfi Coast, or any other region of Italy, get in touch with our friendly travel experts who can design you the perfect trip around your tastes and travel requirements. Take the guess work out of travel and leave it in our capable hands. 
Search Keywords
Enter keywords below to perform a search within the events to find more relevant posts