Salerno's Hidden Gem: About Lake Brignano
Discover Lake Brignano on your Amalfi Coast package holiday to reconnect with nature and see Mediterranean wildlife.
Salerno is a city full of artistic and cultural places to see, as well as wild spots where you can reconnect with nature on your Amalfi Coast package holiday. Lake Brignano (knowns as Laghetto di Brignano in Italian), which sits inland of Salerno's coastal resort, is one of the city's prettiest and wildest hidden gems and a must-visit on your Salerno holiday is you want to immerse yourself in nature in a place rarely visited by tourists.
About Lake Brignano
Laghetto di Brignano actually started life as a clay quarry that was used in the making of D'Agostino ceramics, but filled with water after the quarry closed, creating the lake that you can admire today.
Over the years, nature took control of the site, transforming it into a pretty wilderness. However, an initiative was launced in 2007 by a team of local architects, geologists and agronomists to regenerate the area to create a blissful nature park. Although hindered by lack of funds, the project aimed to enhance the existing greenery surrounding Lake Brignano with naturalistic engineering techniques. In addition, the architects presented their dream to restore three farmhouses on the site to create a wonderful Salerno day out for families and couples visiting the area.
With the creation of this new Parco D'Agostino, Lake Brignano would be extended with the installation of a lake-front promenade, deck and wooden pier, allowing for the possibility of boat shows and boat rides across the lake. However, this vision has yet to be fulfilled and, today, the lake remains a wild natural site, where you can spot rare wildlife and Mediterranean plants.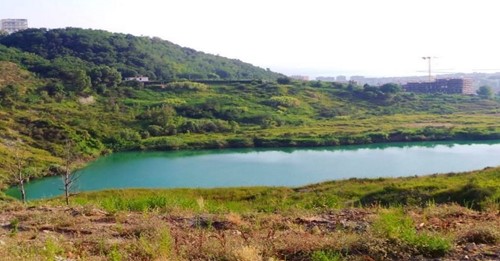 Lake Brignano's Regeneration Project
As well as creating an idyllic nature park, the restoration project aimed to construct a rugby field within the park, as well as an athletics track west of Lake Brignano with a spectators' area, dressing rooms and even two gyms! There were also plans to open a skating track, an ice-rink and a riding school, making this area one of the most desirable sports facilities in Salerno should the project be fulfilled.
With such facilities on offer at Lake Brignano, it was hoped that this regeneration would attract those interested in fitness, as well as skaters, basketball, volleyball and rugby. However, due to lack of funds, the project has not progressed significantly since 2007. Instead, Lake Brignano remains a pretty wilderness that is undiscovered by tourists.
How to Get to Lake Brignano
To get to Lake Brignano on foot, we recommend taking the route from Via Irno. From here, continue towards the cemetery and, at the first junction, turn right and continue until you reach the old  D'Agostino Ceramics Factory. From here, you can either walk along the driveway and climb over the gate, or you can walk towards the new building and climb over the small fence.
Want to Visit Salerno on a Tailor-made Holiday
Salerno is a pretty coastal resort not far from the glorious villages of the Amalfi Coast. It is famous for its centuries-old Arechi Castle, Museo Medievale del Castello, where you can admire medieval ceramics and coins, and Salerno Cathedral, which has beautiful Byzantine bronze doors, a Baroque crypt and a marble altar. With so much on offer, Salerno is a wonderful choice for an Italy coast holiday. If you would like to visit Salerno in 2018 but don't want the hassle of arranging all the travel details yourself, why not speak to one of our travel experts about our tailor-made Amalfi Coast package holidays. We specialise in travel to Italy and can create a customised Salerno holiday itinerary just for you. As a part of our dedicated service, we can arrange:
Return flights (from your choice of airport)
Private car airport transfers
Accommodation (including self-catering villas)
Day trips to other Campania towns and cities, such as Sorrento or Capri
Skip-the-line entry tickets to popular attractions, such as Pompeii
Restaurant reservations
Theatre tickets to performances at Ravello
To find out more, call us on (UK) 01223 637331 or (US) 347-594-5500, or click here to send an online enquiry.
Search Keywords
Enter keywords below to perform a search within the events to find more relevant posts