Enjoying a Capri holiday package
For your next Capri holiday package be sure to include the finest this Mediterranean island has to offer. From outstanding places to stay to delicious cuisine, Capri is full of activities to keep you busy on your Italy holiday.
Capri Cuisine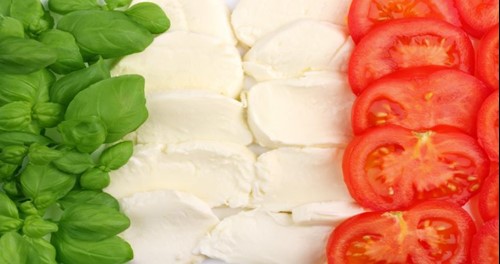 Like all the best places in Italy, Capri offers the finest in Italian cuisine. Since the Caprese fishermen catch fresh shrimp, mussels and an assortment of fish daily, you're certain to have a unique dining experience. In addition to the delectable seafood, Capri's traditional Italian dishes featuring a range of succulent pasta and risotto, as well as the famous Caprese salad with mozzarella, Italian tomatoes and fresh basil. As a result, Capri is full of incredible restaurants where you can sample an assortment of fine dining. 
What to Do in Capri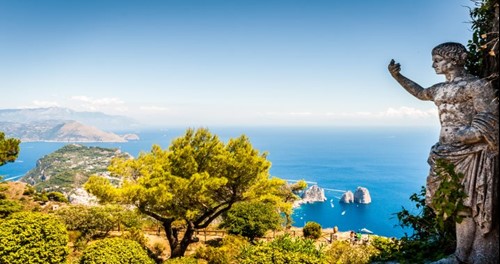 Because we specialise in offering outstanding Capri holiday packages, we'll ensure you have an assortment of memorable activities to get involved in. From relaxing cruises around the Capri coastline to exciting water sports activities, the island is full of things to do. Whether you take a trip to the exceptional Blue Grotto sea cave, climb Mount Solaro – the highest point of Capri – or do a bit of shopping in the Piazzetta, Capri is bursting with activities.
If you want to enjoy a Capri day trip, we recommend visiting the fascinating archaeological site of Pompeii. This lost city was buried for nearly 1500 years following an ancient volcanic eruption. The ash that covered the city served to preserve historic life in great detail and today it is considered one of the most important archaeological sites in the world. Alternatively, you can easily visit Sorrento from Capri – ferries connect the resorts – as well as the nearby island of Ischia.
Where to Stay in Capri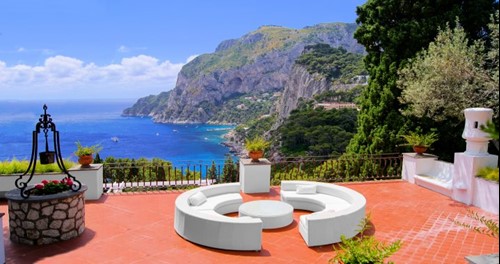 Once you've spent your time getting the most out of your Capri tour, you may want to retreat to your hotel and rest before the next day of excitement begins. You'll have no problem finding a place to stay as Capri is full of hotels that accommodate all group and wallet sizes:
There's the fabulous Capri Hotel Canasta, nestled in a quiet avenue only five minutes from the remarkable Piazzetta.
Or the impressive Hotel Excelsior Parco with its luxury, convenience and excellent hotel services.
Perhaps, the notable Capri Tiberio Palace Hotel, positioned in a prime location that overlooks the sea, is more what you're after.
With such a high-quality choice available, and much more on offer, you'll enjoy luxurious accommodation whenever you stay in Capri.
Capri Holiday Package
If you want all of this in a convenient bundle, then look no further than our Capri holiday packages. We tailor each detail to meet your needs, ensuring you get the best deal every step of the way. Contact our travel experts today for more information or to book your Capri holiday package. You can reach us via our contact us form or call us directly on 01223 637331.
Search Keywords
Enter keywords below to perform a search within the events to find more relevant posts