Discovering the Amalfi Coast: On the Road from Positano
The panoramic coastal roads that link the Amalfi Coast villages are some of the most beautiful in South Italy, offering idyllic views of the sparkling sea with the scent of the Mediterranean lingering in the air. If you're visiting the Amalfi Coast this summer and want to enjoy a driving tour of the villages, here is our guide.
The glorious UNESCO-protected Amalfi Coast, which has long been a treasured holiday resort, is defined by its charming fishing villages, which are linked by coastal roads that offer stunning views of the natural sights. Even if you have just a little time to discover the Amalfi Coast, you can easily visit Positano, Praiano, Furore, Amalfi and Ravello as part of a driving tour, giving you the opportunity to appreciate the coastal scenery, featuring Mediterranean gardens, citrus groves and hidden sea coves.
Driving the Amalfi Coast
If you're thinking of a self-guided driving tour of the Amalfi Coast, then we recommend taking the Panoramic State Road 163, which is the main coastal road linking the Amalfi Coast villages. As a part of your custom-made Amalfi Coast package holiday, we can arrange car hire or, if you prefer, we can arrange a guided Amalfi Coast tour so that you can simply sit back, relax and enjoy and sublime sea views and coastal scenery. To find out more about our tailor-made Amalfi Coast holidays, please contact us.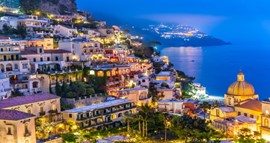 Going from west to east, you can first visit the famous town of Positano, which is arguably the most beautiful of the Amalfi Coast villages. It is defined by its colourful villas and buildings that sweep down the coastal hills toward the sea, the most glorious of which is surely the Church of Santa Maria Assunta, which features a stunning majolica dome. There are plenty of unique craft stores to discover in Positano but, if you just want to relax, we highly recommend heading to Fornillo Beach. Alternatively, if you want to explore the coast around Positano on foot, we suggest taking the Path of the Gods, which is a panoramic walk along the seafront and stretches almost up to Amalfi.
From Positano you can next reach Praiano, which has a stunning natural bay surrounded by rocky walls, making it the ideal place to relax by the sea. If you're hungry, we recommend Trattoria Da Armandino, which serves genuine Amalfi Coast cuisine, including fresh seafood and homemade pasta.
The next Amalfi Coast village is Furore, which is not far from Praiano. It is home to just 800 residents and boasts the only fjord in Italy. There is also a small vineyard in Furore that produces the award-winning Bianco Fiorduva of the Marisa Cuomo Wineries – we highly recommend making an appointment at the vineyard for a wine-tasting experience as a special treat!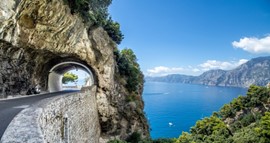 After passing the marina harbor of Conca dei Marini (where you'll find the famous Emerald Grotto) and the ancient white-washed villas, you can reach Amalfi ­­– the pearl of this stretch of coastline. Amalfi's Old Town is a must-visit, where you can see the Duomo and the wonderful Cloister of Paradise, as well as local boutiques that sell authentic limoncello made with locally grown lemons. Amalfi is also a great place for watersports, such as snorkelling – Cala Bellavaia is the best spot and can be reached by gozzo, which is a quaint fisherman's boat.
If you have the time and desire, it is well worth hiking from Amalfi to to Ravello, where you will be rewarded with breathtaking panoramic views. There are also several parks to enjoy (Villa Cimbrone and Villa Rufolo are our favourites) and there is also a theatre that has regular shows, including piano concertos, ballet performances and opera - the perfect treat for an evening.
A Holiday to the Amalfi Coast
If you would love to visit the Amalfi Coast on holiday this summer, then why not chat to one of our expert holiday advisers, who will take the time to listen to what you want from your summer holiday in Italy and will put together the perfect tailor-made Amalfi Coast package just for you, featuring any additional extras that you desire, such as car hire or guided tours.
To find out more, please contact an expert member of our team on (UK) 01223 637331 or (US) 347-594-5500. Alternatively, please click here to send an online enquiry and we'll get back to you right away – typically within 24 hours. You can also browse our selection of Amalfi Coast packages by clicking here.

Search Keywords
Enter keywords below to perform a search within the events to find more relevant posts