"Treasures Under the Lapillus", a new Pompeii exhibit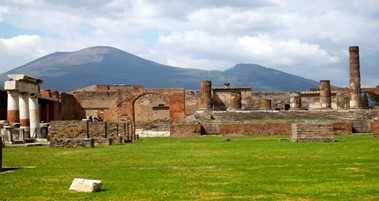 On your next Pompeii visit, be sure to admire the ancient paintings, gardens, mosaics and precious objects that tell the story of a time long gone. Pompeii is an iconic location near the Bay of Naples. A new exhibit named the "Treasures Under the Lapillus: Furnishings, Frescoes and Jewellery from the Insula Occidentalis" aims to immortalise the history of this archaeological site.
The exhibition will offer the public an opportunity to admire the rich furnishings and wall paintings of one of the most famous Pompeii locations, a grandiose urban villa at the western end of this ancient city. Known as the Golden Bracelet House, this site was closed for decades to the public and unavailable due to the ongoing restoration work.
Recently, those who book a Pompeii visit can travel to this site to admire this relic from the past. This house was named after a large gold bracelet with a weight of 610 grams that was worn by one of the Pompeii victims. The bracelet, now on display, is characterised by two facing serpent heads holding a disc with the bust of the goddess Selene (goddess of the Moon) between their mouths.
The Golden Bracelet House features frescoes depicting the wedding of Alessandro and Rossane, and Arianna and Dionysus at Naxos, capturing the theme of joyful marriage. During the summer, banquets were held here, with mosaics and other décor indicating what the fashion was like at the time.
Frescoes that depicted garden scenes from the Golden Bracelet House of Pompeii are also available to view in the Antioquarium of Boscoreale.
This new exhibit will run until 31st May 2018.
Get in Touch
If you're interested a Pompeii visit as part of your Amalfi Coast package holiday, contact our travel experts today. We also offer a range of destinations, including the Amalfi Coast, Sorrento, Capri and more, to help you create the perfect holiday package. To learn more about our tailor-made holidays, please contact us online or call us directly at 01223 637331.
Search Keywords
Enter keywords below to perform a search within the events to find more relevant posts